Thermostats
Comfort Sync™ Thermostat by Armstrong Air
Customizable Skins – Available in many colors and patterns, they allow Comfort Sync to blend seamlessly into any decor, so it's as fashionable as it is functional.

Remote Access – Allows you to check and adjust your home's temperature from anywhere using your laptop, smartphone, tablet or other web-enabled device.
One-Touch Away Mode – Puts your system into an enhanced energy-saving mode when you leave.
Evolution Connex Control by Bryant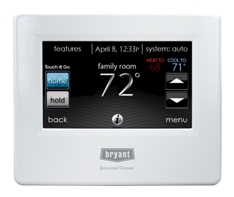 Full-color, touch-screen design allows photo screen saver upload
Perfect Heat® technology capable to minimize temperature fluctuations
Perfect Humidity® technology capable for optimal cooling comfort
Hybrid Heat® system management capable
Humidifier, ventilator, air purifier compatible
Four levels of fan speed control programmable by period
Intuitive, lifestyle-based programming with 7-day/2 or 4 period and vacation programming