Heat Pumps
Armstrong 16 & 18 SEER Two-Stage High Efficiency Heat Pump
Comfort Sync Thermostat When you pair this model with the Comfort Sync thermostat, the system will continuously monitor internal components for optimum performance. When Comfort Sync detects that repairs and regular maintenance are needed, it alerts you or your dealer instantly via email.
16 SEER Efficiency Rating SEER (Seasonal Energy Efficiency Ratio) rates the energy efficiency of your cooling equipment. The higher the SEER rating, the more efficiently your unit operates, saving you money on utility bills.
8.5 HSPF Efficiency Rating HSPF (Heating Seasonal Performance Factor) rates the energy efficiency of your heat pump. The higher the HSPF rating, the more efficiently your unit operates, saving you money on utility bills.
ENERGY STAR® Qualified The ENERGY STAR program is a joint program of the U.S. Environmental Protection Agency and the U.S. Department of Energy helping us all save money and protect the environment through energy-efficient products and practices.
Quiet Shift™ Technology Allows heat pumps to enter defrost mode without excessive noise. Since refrigerant pressure is allowed to equalize before the switch, the heat pump can dissipate performance-robbing frost and ice quietly.
MHT™ Technology Armstrong Air's proprietary heat transfer system. A specially designed fan shroud pulls air evenly throughout the air conditioner's coil surface. The coil features rifled tubing to enhance refrigerant flow, while lanced coil fins increase surface contact between metal and air. All combine for maximum heat transfer and efficiency.
Downloadable Product Brochure A4SHP16LS
Downloadable Product Brochure A4SHP18LS
Bryant 16 SEER Evolution Two-Stage Heat Pump (286B)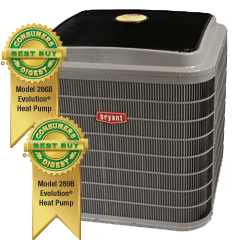 The Bryant ultra-high efficient, reliable Evolution Heat Pump offers 19 SEER cooling and heating efficiency, plus 2-stage operation for energy-saving comfort. Its year-round value has earned it a Consumer Digest Best Buy recommendation.
Puron® refrigerant
Up to 19 SEER and up to 10 HSPF
Even temperatures
Enhanced diagnostics with Evolution control
Sound as low as 66 dB (quiet as a vacuum)
2 stage operation for maximum comfort
Evolution® Control for ultimate performance
AeroQuiet™ System II to minimize noise
DuraGuard™ Plus system to protect your unit